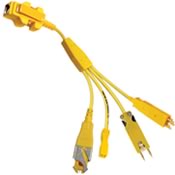 Westek in the News! Read the article!
Posted on October 6, 2016 ,

0 comments
Westek's focus on technicians and quality helps streamline operations and reduce costs
Driven by the move from LTE to 5G, macro builds, metro fiber deployments and in-building wireless solutions are ushering an evolution in the telecom industry. Underpinning this increasingly complicated network environment are the tower hands and field technicians that roll up their sleeves to ensure operators can provide subscribers with reliable coverage and capacity.
Imagine rewiring a circuit breaker or installing a home theater. Now imagine doing that task while hanging 150-feet in the air off of a telecom tower, or standing in ankle-deep water underneath a busy city street. In these challenging field conditions, having the right tools makes or breaks the success of a particular job.
That's the approach Westek Electronics takes: help provide technicians with the right tools based on conversations with those technicians. Who better to tell a product designer what's needed in the field than the teams that earn their living on the back of successful deployments?
Now let's take that one step further. Not only does the correct tool make the technician's job easier, it enables him or her to perform that task more quickly. For the operator or managed service firm picking up the check, this means less time on site, fewer truck rolls and greater efficiency in operational expenditures.
Westek CEO Kevin Larkin explained that the company got its start providing cable and communications equipment to NASA. "Equipment failure is not an option for us," he said. "At Westek, our focus is on people. When we see technicians burdened with a problem, we look for a way to create a solution. When we develop a product, we go into the field and let the experts help design our solution."
The pace of fiber deployments in the U.S. is at a fever pitch with no signs of slowing. Players like Comcast, Google Fiber and AT&T are in fierce competition to provide fiber-to-the-home, while myriad managed services firms are connecting fiber to the top of telecom towers. In metro areas, explosive demand for mobile capacity is creating the need for massive fiber backhaul resources.
Given this market reality, it's important that technicians work as efficiently as possible. To get an idea of how Westek facilitates that goal, let's look at a few new products.
The patent pending fiber clamp system solves a recurring problem techs face. Instead of using zip ties to tie down the splice tray to terminate a fiber, Westek developed a secure clamp system that can attach to almost anything. There's also a built-in work tray so technicians can keep their tools organized and accessible.
In addition to installations, telecom workers also have to test, measure and optimize equipment performance. At the fiber level, this is accomplished with a patent pending fiber loopback plug. Westek's rugged, four-in-one fiber loopback plug can stand up to any type of environmental conditions and, not that it happens, survive being stepped on by a work boot.
Westek's fiber puller insertion and removal tool was designed based on lessons learned from years of work in the central office. Compatible with all fiber optic modes including WDM, DWDM, CDWM and FTTx derivatives, the ergonomic product reduces the physical strain that comes with this repetitive task.
"These guys work in tough environments," Larkin told RCR Wireless News. We go in and look at what they're doing and see how we can make it a little bit better for them. As workloads continue to increase, we want to help these guys get their lunch and get their breaks back. To do that, we build tools that won't ever let you down."
While the design and functionality may seem simple, having the proper equipment creates a virtuous cycle that enables techs to work more quickly, while reducing costs for operators and managed service firms. This level of efficiency will be crucial to scalable, successful deployments in the growing and lucrative telecom industry.
Westek provides a wide range of patented and patent pending products including everything from technicianbackpacks and OSP Combi Cords to adapters, filters and Tel Line Testers. In addition to its Westek-patented & branded products, the 35-year-old company draws on in-house expertise and manufacturer relationships to offer custom solutions for not only the telecom space, but also the aerospace, healthcare and military industries.
To learn what many companies in the Fortune 1000 have about Westek's innovate products and services,click here.